CyberDynatics Advanced Development System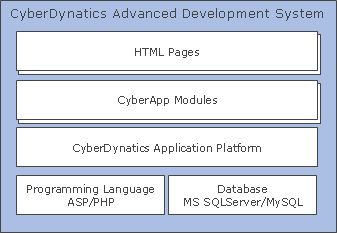 The technology required to build your web site ranges from very simple to extremely complex. Our wide range of experience in the latest tools and environments allows us to build and deploy even the most complex solutions.
Over the last decade we've built a solid development platform that allows us to rapidly build and customize your web site to meet your needs and exceed your expectations.
The underlying platform is called the CyberDynatics Application Platform. Using the features and functionality built into the platform we've developed a wide range of modules called CyberApps that we assemble and customize to meet your specific needs.
CyberApp Modules
These are some of the ever growing list of CyberApps we have:
Web Modules
Templates
Shopping Cart
User/Customer Registration/Profile
Calendar
Surveys
Blogs
Messaging
Live Chat
News
Back Office Modules
Order/Shipping Management
Inventory Management
Campaign Management
Content Management
Customer/Contact Management
Email Management
Facilities Management